Até o momento, foram anunciados premiados em 17 das 24 categorias; no ano passado Brasil conquistou 90 Leões.
O Brasil conquistou mais 17 Leões nesta quarta-feira (21) no festival de publicidade de Cannes. Com isso, as agências brasileiras somam 88 Leões (12 ouros, 31 pratas e 45 bronzes) no Cannes Lions 2017, e já quase igualaram o total de prêmios conquistados no ano passado.
No ano passado, o Brasil levou 90 leões (10 ouros, 22 pratas e 58 bronzes), mas ficou sem nenhum Grand Prix no mais importante festival internacional de publicidade.
Até o momento, já foram divulgados os vencedores em 17 das 24 categorias. As agências brasileiras mais premiadas são AlmapBBDO (4 ouros) e Ogilvy (3 ouros). A 64ª edição do evento termina no sábado (24).
O Brasil não recebeu nenhum ouro nesta quarta. Os Leões do dia saíram nas categorias Design (3 pratas e 1 bronze), Product Design (1 bronze), Media (5 bronzes), Lions Entertainment (1 prata e 3 bronzes) e Entertainment for Music (2 Pratas e 1 Bronze).
Veja mais abaixo a lista completa das campanhas brasileiras premiadas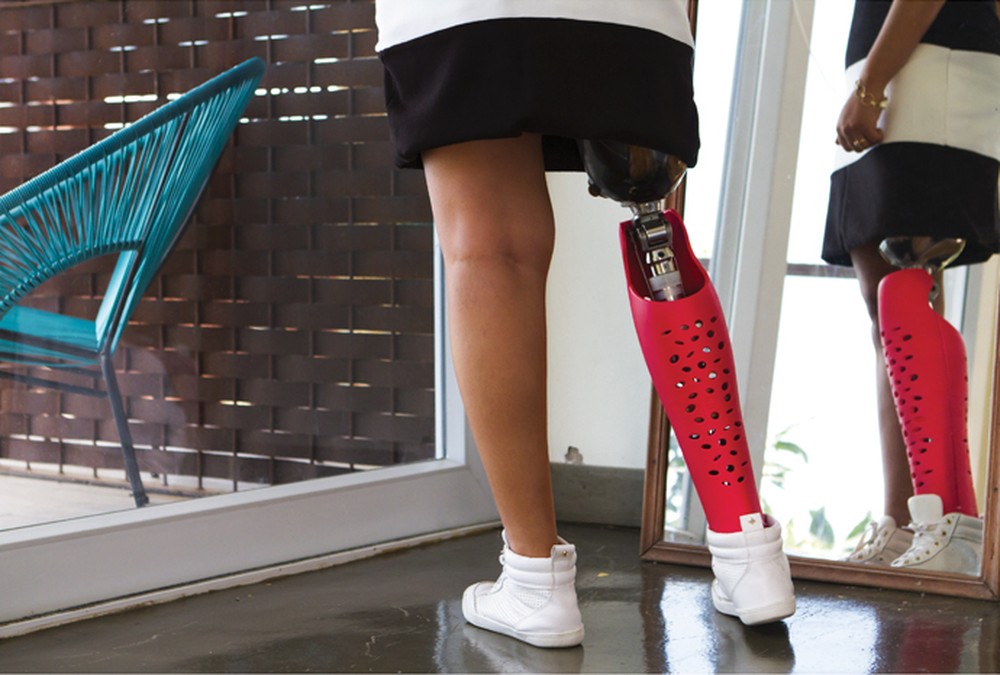 Ouros do Brasil
A agência David ganhou ouro em Mobile pelo case "The never-ending forest APP (Floresta sem fim)", criado para a Faber-Castell. No trabalho, lápis feitos com madeira reflorestada se transformam em animais da fauna brasileira por meio do aplicativo.
Na categoria Direct, a DM9DDB foi premiada pelo trabalho "Price on the Jersey" (Preço na camisa), desenvolvido para o Walmart, e a Grey pelo case "The colour of corruption", um plug-in feito em parceria com o Reclame Aqui que promete marcar com a cor roxa o nome de políticos condenados, citado ou investigados.
Em Cyber, a Africa faturou ouro pela ação "The Debut", criada para a Budweiser/ESPN.
Na categoria Print, a AlmapBBDO faturou 2 ouros em Print por cartazes feitos para promover internacionalmente a Havaianas e 2 ouros em Outdoor, com as campanhas "Gray Gate e White Gate" (Volkswagen) e "Dog Channel" (Pedigree). Já a Ogilvy ganhou 2 ouros pela campanha "Billie Gates, Marcia Zuckerberg, Carla Slim" para a revista Forbes Brasil.
Em Pharma, a Ogilvy foi premiada com 1 ouro pela campanha VR Vaccine, na qual foi desenvolvido uma trabalhdo com uso de realidade virtual para laboratório Hermes Pardini.
Em Outdoor, a Publicis levou 1 ouro em Outdoor pela campanha "The Cliché", feita para a Heineken, na qual surpreendeu casais durante a final da Champions do ano passado e gerou polêmica por ter utilizado atores e trabalho de casting na "pegadinha". Relembre aqui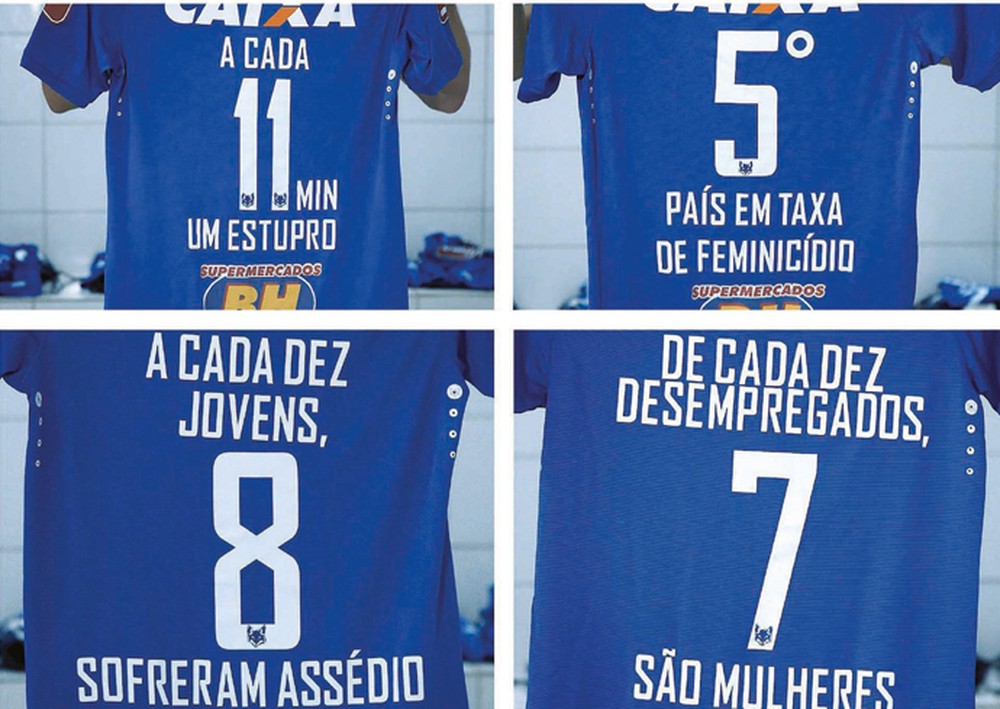 – Lions Entertainment (1 prata e 3 bronzes)
Prata
– The debut – Africa para Budweiser/ESPN
Bronze
– Xuxa and the missing child – Soko para Netflix/Stranger Things
– Favelagrafia – NBS para Apple/Iphone
-Sounds of Conquest – Nova/SB para Caixa Econômica Federal
Entertainment for Music (2 Pratas e 1 Bronze)
Prata
– More than 70% – J. Walter Thompson para Instituto Azmina
– Parkinsounds – Havas Life para Teva Neuroscience
Bronze
– On Hold Music Festival – Grey para Reclame Aqui
Product Design (1 bronze)
– Confetti Prosthetic Leg Cover – Furf Design Studio para Ethnos
Media (5 bronzes)
Bronze
– The Clichê – Publicis para Heineken
– Foot Type Test Ad – Neogama para Asics
– Let´s Change the Numbers – New360 para Cruzeiro Esporte Clube e ONG Azmina
– The Fantastic Problem Solving Machine – Z+ Comunicação para AACD
– The Colour of Corruption – Grey para Reclame Aqui
Design (3 pratas e 1 bronze)
Prata
– The Corruption Converter – FCB Brasil para Estadão (2 pratas)
– The Colour of Corruption – Grey para Reclame Aqui
Bronze
– Favelagrafia – NBS para Apple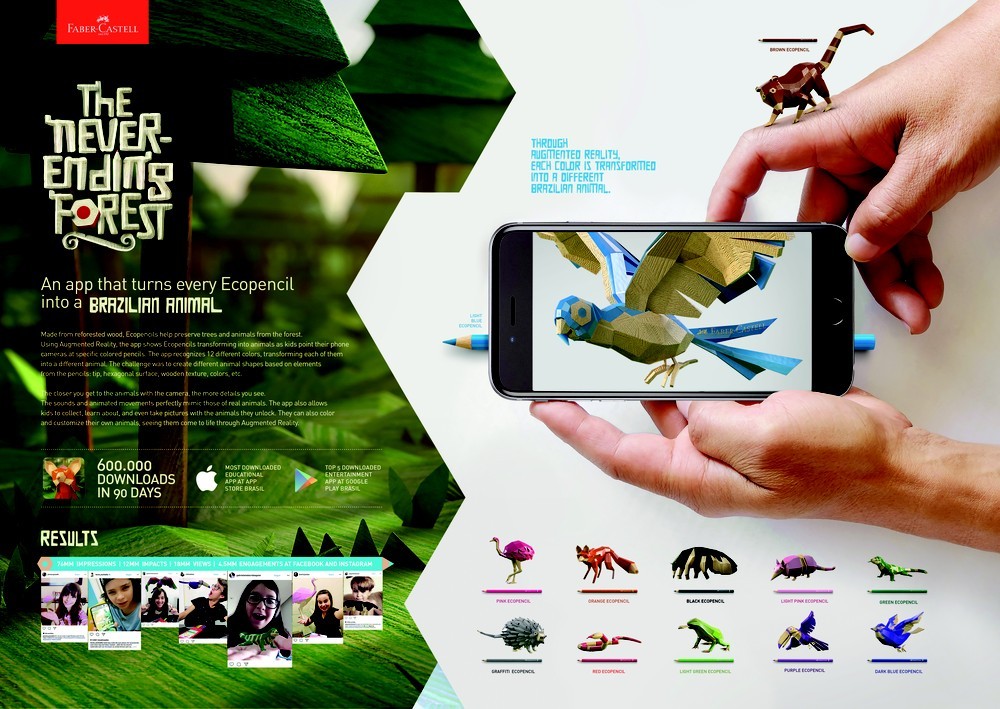 Mobile (1 ouro, 2 pratas e 2 bronzes)
Ouro
– The never-ending forest APP (Floresta sem fim) – David para Faber-Castell
Prata
– Kiss the Kremlin – DM9DDB para Ssex Bbox (2 pratas)
Bronze
– The voice of art – Ogilvy para IBM
– Kiss the Kremlin – Ssex Bbox – DM9DDB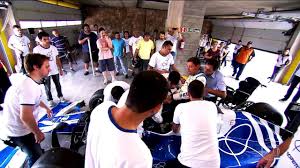 Lions Innovation: Creative Data (1 prata e 1 bronze)
Prata
– Powered by respect (Movido a respeito), Globo em parceria com Instituto Rodrigo Mendes. Veja cima vídeo sobre a campanha que mostrou uma pessoa com tetraplegia pilotando um carro de corruda por comandos cerebrais
Bronze
– The colour of corruption, Grey para Reclame Aqui
Direct (2 ouros, 1 prata e 2 bronzes)
Ouro
– Price on the Jersey – DM9DDB para Walmart
– The colour of corruption – Grey para Reclame Aqui
Prata
– Price on the Jersey – DM9DDB para Walmart
Bronze
-Anonymous Friend – J. Walter Thompson para Alcoólicos Anônimos
– Price on the Jersey – DM9DDB para Walmart
Cyber (1 ouro, 2 pratas e 4 bronzes)
Ouro
– The Debut – Africa para Budweiser/ESPN
Prata
– Nosferatu – AlmapBBDO para Getty Images (2 pratas)
Bronze
– The Debut – Africa para Budweiser/ESPN (2 bronzes)
– The colour of corruption – Grey para Reclame Aqui
– The voice of art – Ogilvy para IBM Cloud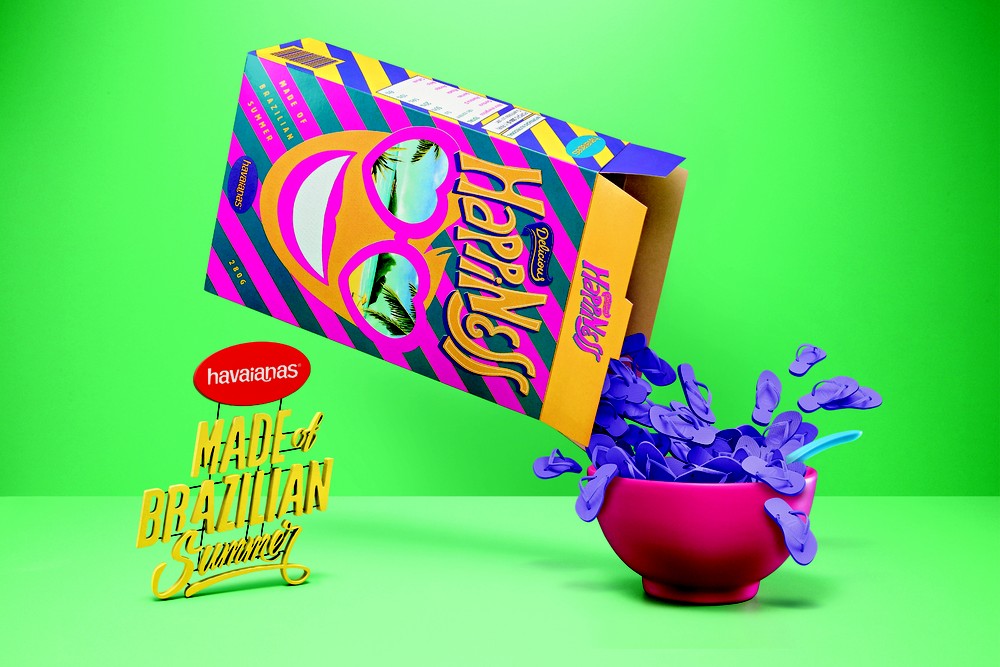 Print & Publishing (4 ouros, 7 pratas e 10 bronzes)
Ouro
– Cup, Bowl e Matches – AlmapBBDO para a Alpargatas (2 ouros)
– Billie Gates, Marcia Zuckerberg, Carla Slim – Ogilvy para Forbes Magazine (2 ouros)
Prata
-Hair Brush, Screw Driver, Whisk – Y&R para Freddo
– Endless Energy, Good Vibes, Delicious Happiness, Instant Friendship, Free Spirit – AlmapBBDO para Havaianas
– Baby, Dive, Couple, Cat (campanha) – Talent Marcel para Mapfre
– Stockbroker, IT Manager, Architect, Engineer – J. Walter Thompson para Alcoólicos Anônimos
– The Book of Rock – AlmapBBDO para Kiss FM
– Bedtime Stories – Ogilvy para Bandsports
– Endless Energy, Delicious Happiness, Good Vibes, Instant Friendship, Free Spirit – AlmapBBDO para Havaianas
Bronze
– Bobbin e Ball – BIC – Y&R para BIC
– Housekeeper, CEO, Supermarket, Biker – AlmapBBDO para Getty Images
– Toni, Ester – Africa para Disque Denúncia
– Food Type Test Ad – Neogama para Asics
– The Outside Edition – Talent Marcel para Go Outside
– The Book of Rock – AlmapBBDO para Kiss FM (3 bronzes)
– The Book of Wara´ná -F/Nazca Saatchi & Saatchi para Guaraná Antarctica
– Food e Toy Cars – Y&R para Santa Casa de Misericórdia
PR (5 pratas e 5 bronzes)
Prata
– Amazon Warriors Safe Collection – Little George (Ketchum) para Ananse Book Collection
– Braile Bricks – Lew'Lara\TBWA para Dorina Nowill
– Woman Interrupted – BETC para Woman Interrupted
– Kiss the Kremlin – DM9DDB para Ssex Bbox
– On Hold Music Festival – Grey para Reclame Aqui
Bronze
– Whopper Exchange – AKQA para Burger King
– On Hold Music Festival – Grey para Reclame Aqui
– The Cliché – Publicis para Heineken
– The Debut – Africa para Budweiser/ESPN
– Kiss the Kremlin – DM9DDB para Ssex Bbox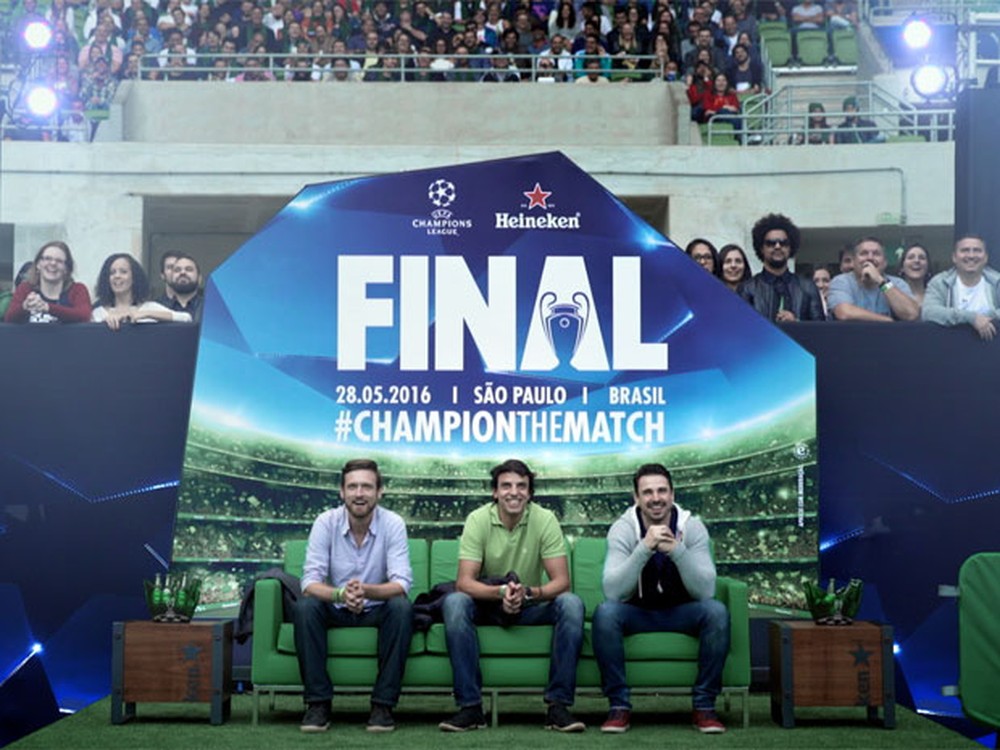 Outdoor (3 ouros, 3 pratas e 5 bronzes)
Ouro
– Gray Gate e White Gate – AlmapBBDO para Volkswagen Trucks
– Dog Channel – AlmapBBDO para Pedigree
– The Cliché – Publicis para Heineken
Prata
– CEO, Supermarket e Housekeeper – AlmapBBDO para Getty Images
– Endless Energy, Instant Friendship, Delicious Happiness, Pure Spontaneity e Free Spirit – AlmapBBDO para Alpargatas
– CUP, Matches e Bowl – AlmapBBDO para Alpargatas
Bronze
– Tequila, Gin e Vodka – Y&R para Santa Casa de Misericórdia
– Old Lady/Young Man, Woman/Monk e Soldier/Hippie – AlmapBBDO para Pedigree
– Nosferatu – AlmapBBDO para Getty Images
– Inequality Courts – Africa para ESPN
– VR Vaccine – Ogilvy para Hermes Pardini
Promo & Activation (3 pratas e 2 bronzes)
Prata
– Food Type Test Ad – Neogama para Asics
– Nosferatu – AlmapBBDO para Getty Images
– Eaternet – Aktuellmix para Hershey's
Bronze
– Price on The Jersey – DM9DDB para o Walmart
– VR Vaccine – Ogilvy para Hermes Pardini
– Glass (1 bronze)
– Strong Girls (Meninas fortes) – Ogilvy Brasil para Nescau/Nestlé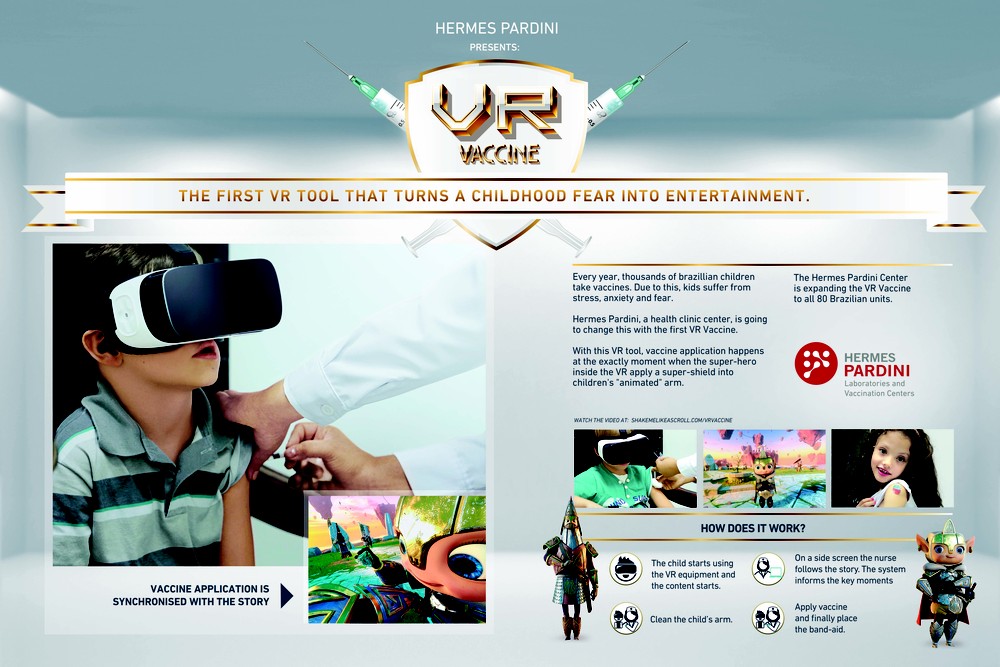 Lions Health: Health and Wellness (2 bronzes)
Bronze
– Amazon Warriors Safe Collection – Little George (Ketchum) para Ananse
-Iris &Thula – AlmapBBDO para Whiskas
– Lions Health: Pharma (1 ouro e 1 prata)
– VR Vaccine – Ogilvy para Hermes Pardini (ouro e prata)
Fonte: g1.globo
---
Veja Também